Mah Gawd! This is awesome!
casandersdotnet
MAH GAWD! MAH GAWD KING! HE'S STOMPIN' A MUDHOLE IN 'EM AND WALKIN' IT DRY!!!
This is fantastic news and might get me watching MMA again. Jim Ross–Good ole JR–the greatest commentator the WWE ever had, is going to be announcing at the Battlegrounds PPV on October 3rd. Even better, his co-commentator is Chael Sonnen.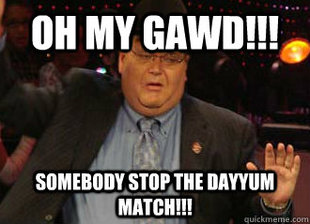 Can you imagine what these two are gonna spout to each other. It'll be gold, Jerry. Gold! I hope we get some of this:
I miss JR. Could you imagine him covering WrestleMania XXX, where Brrrrrrrrrock Lesnar beat The Undertaker? How about Daniel Bryan getting screwed repeatedly by HHH and Steph? If only. JBL is a great commentator (in his own way), but he's no JR.
JR left the WWE last year, after the infamous WWE2K14 incident. You've heard about this, right? Ross and Ric Flair (Woo!) were at the event. Flair was drunk…
View original post 271 more words